Tuesday, September 14, 2004
The power of nature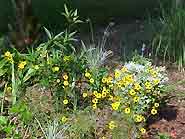 This weekend we were yet again in a wait and see mode. Hurricane Ivan was bearing down on the Tampa Bay area and almost every resident was either boarding up or making evauation preparations. My husband and I resorted to what many would consider mundane chores. We mowed and trimmed the lawn back and front. I did every stitch of laundry in the clothes hamper and then threw in a few towels just for good measure. My husband dusted and swept the floors and I changed the cat litter. By Sunday afternoon there was nothing left to do. That's when I decided it was time to weed the garden.
My neighbor down the street had spent all day Saturday cutting plywood and boarding up his first floor windows. By Sunday, he was working on the upper level. I watched him preparing for the worst and wondered if I was being frivolous as I started gathering my garden tools. I took my tools and, kneeling down, started pulling weeds. It didn't take long before I was really into it especially since I had been ignoring this bed for about two months. I was pulling weeds and trimming spent flowers and, before I knew it, an hour had passed. The only thing that stopped me was the threat of a thunder storm looming just south of us. I stood up and looked around for the longest time. There were familiar noises of lawn mowers being used. One of our neighbors was out on his motorcycle revving it for all it was worth. And one street over I could hear children laughing as they played. The only odd sound was that of my neighbor cutting plywood for his windows and then he stopped. When I looked toward his house I noticed he had taken a cigarette break and still had two sheets of plywood leaning against his home. So here I was putting garden tools away and cleaning up weeds while he was gathering energy to start cutting wood again.
It was an enlightening moment for me. People do what they need to to get through trying times. And we've been experiencing some pretty trying times lately. Between Charley and Frances everyone has suffered in some form. Then with Ivan rapidly approaching, it was just enough to scare the bejesus out of us all and get most of us to the point where we just said - ok let's get it over with. So people were out mowing their lawn and children were doing what they do best. My husband decided to spend the day in front of the computer, his form of relaxation, and I took to weeding the garden while my neighbor decided it was time to board up. And the boards are still up. Even though it appears that Ivan is going to the Panhandle, there's still enough anxiety that we're all looking over our shoulders and keeping our fingers crossed. While we have been cautiously optimistic with the news over the last few days, I realize I still accomplished a couple of things. I got just about half of the garden weeded and redirected my apprehension to something that, while mundane, still has great meaning for me. And my garden looks pretty darn good - it's the zen thing working again. Happy Gardening.
Comments:
Hi Blogger,
During my search for information about
presents for gardening
, I found your Blog,
although The power of nature isn't exactly what I was looking for, I like the topic and the way you wrote it. My interest goes out to presents for gardening related information, but I always admire a well written post.
Post a Comment
This work is licensed under a
Creative Commons License
.
Thanks to Andrew Stenning who contributed the photograph for our masthead