Thursday, March 31, 2005
Boy did I get a deal
My mother was leafing through the Sunday paper and saw a circular for Walmart advertising 100 day lily bulbs for 7 dollars and something. What a deal! She waited until Wednesday evening to tell me about it and then said, "if anyone happens to be going to Walmart they could pick up those bulbs." Hint, hint. Being the good daughter that I try to be, I stopped by Walmart today to get the darn bulbs. Well, you guessed it. They were sold out. I looked inside and around the box and no day lily bulbs to be found. (Just after I searched, another lady came along behind me who not only did the same thing but more - she turned the box upside down hoping to find either bulbs underneath or possibly hiding in the cardboard flap.)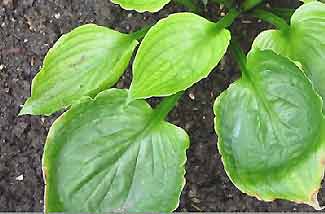 Realizing they were probably sold out and, at the price advertised were never going to get more in, I decided to take a stroll through their garden area. Keeping an eye out for Ranger Raccoon (my last visit to the Walmart garden had me making an abrupt turn inside after spotting a HUGE raccoon sauntering around the aisles) and realizing there were too many shoppers around for him to make a showing, I slowly circled through all of the plant aisles. On my second trip past the usual Easter stuff I found a hibiscus bush that looked a little tough. There on the pot was a red sticker - CLEARANCE PRICE - REDUCED - 50% OFF - big as life. The adrenalin started to flow and I grabbed the plant and stuck it in my cart. Pretty soon I saw more red stickers - plaintain $1.88. It's hosta! I'd been thinking of ordering some hosta for the shady area under the oak tree but the minimum price before shipping was 4 bucks a plant. This was a deal so I grabbed 7 of those babies. Then there was a daisy 50% off and an elephant ear and... Well, you guessed it 70 bucks later I'm rolling my cart out the door, but I got a haul. I'm so excited and can't wait to get going in the garden this weekend. Nicotiana in the new shade garden (you'll see more of that soon), a baby palm for the pool area, a pink azalea for another shady area. Is it Saturday yet? No day lillies for Mom but I'm going to Lowe's tomorrow and will grab some to make her happy. I'm not such a bad daughter after all. Happy Gardening.
Sunday, March 27, 2005
Artichokes
Thursday, March 24, 2005
Dish garden gifts
Tuesday, March 15, 2005
Call me a tree hugger
Monday, March 14, 2005
Fuzzy trees
Tuesday, March 08, 2005
Cat litter revisited
Wednesday, March 02, 2005
We did it again
This work is licensed under a
Creative Commons License
.
Thanks to Andrew Stenning who contributed the photograph for our masthead