Friday, April 30, 2004
Fellow Webloggers along the way
I was flattered and surprised to find out I was linked by a fellow Weblogger and didn't even know it. My husband was surfing the net and came across
MurrayHill 5
. Deb, the editor of MurrayHill 5, is a cook and photographer. When you enter her site you have the choice of going to the kitchen or the gallery. Take the time to do both - she has some beautiful photos in the gallery as well as some great recipes and photos in the kitchen. She also lists a variety of sites you might enjoy seeing including some interesting gardening blogs.
Wednesday, April 28, 2004
Lawn mower quandary
I'm in a quandary. I don't know if you remember me talking about our friend, Earthine, who cut and trimmed our lawn pretty regularly over the last few years. Once we started going through all the construction, not to mention how he cut down all of my plants, we decided we would take care of our lawn ourselves once all the construction work finished.
So here we are eight months later with the task at hand. The lawn is getting quite tall and scraggly and is begging to be cut. But our electric mower died and all we have left is a hand trimmer. My dad graciously offered to give me his mower since he now has someone to care for his property, but it's gas and I have a problem with that.
Gas mowers are not only noisy, they pollute the air. Additionally, with our ever-increasing reliance on petroleum products it gets costly to maintain and supports some bad politics. Electric mowers are quieter, but you have to have a really long cord or several electrical plugs close by. There are
battery-powered varieties
as well, but if you forget to charge the thing...well, you know the rest of the story. Finally, there are manual push mowers. That would normally be my first choice, but the size of our new yard is a lot bigger than the previous one. Once I get all my gardens built out, that won't be a problem because I plan to have only a few grass paths and a place for our boys to run on. But in the meantime, there's a yard full of tall grass and weeds that needs to be cut!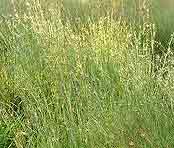 So, the final choice is to take the free mower from my dad and use it until the gardens are completed. The good news is that this will spur me to reduce the size of the lawn pretty quickly or before the end of the year, whichever comes first. Of course the bad news is that as much as I would love to be out in the gardens everyday, it just isn't feasible so the timing will probably be later than sooner. I'll do the best I can and plan to have that manual mower for next year. Happy Gardening.
Monday, April 26, 2004
The zen of gardening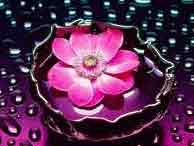 Gardening is a form of meditation for me. Whenever I have the chance to get my fingers in the soil, I am transported into my "inner person". I never really looked at it in that way until I started thinking about yoga.
My husband and I are considering taking a
yoga
class. It will be good for both of us since it practices a lot of stretching and balance-type exercises in a low impact environment. Well, we were watching a yoga instructor on TV the other morning and toward the last of her lesson she stressed the importance of ending with meditation. So, I got thinking of gardening.
Gardening is very much like yoga in many ways. It promotes stretching and flexibility. The balance thing is definitely one that challenges me, especially when I'm trying not to step on something or fall into the pool while doing so. And, finally, the
meditation
part. I don't know about you, but I really lose myself when I'm working in the garden. I move the soil, pull weeds, redistribute plants where they may thrive better, water, mulch, etc. You all do the same. What I've learned is that I will go outside in the morning, and the next thing I know it's noon. And the best part is, I've solved any problems I may have been stewing about. Or I've come up with a good idea for a new garden spot. Or I've just thoroughly enjoyed what I've been doing and that's all I've been thinking about.
So any way you slice it, it feels like yoga and meditation to me. Let me know what you think. Happy Gardening and enjoy exploring your inner self next time you're in the garden.
Thursday, April 22, 2004
My veggies are planted
I finally got out and started cleaning up my gardens this weekend. We've had lots of things going on that did not allow me the time I wanted to restore the gardens to their beautiful and flowing look prior to the construction truck damage. So over last weekend I got my hands into the soil and began pulling weeds and replanting my neighbor's cast-offs (dusty miller).
The best thing I did, however, was finally get my vegetable seeds started. I planted cabbage, cucumber, yellow squash, zucchini, carrots, radishes, and green beans. I also threw in some zinnia, marigold, portulaca and cosmos seeds for color as well as the whole companion-planting thing discussed in the
Carrots Love Tomatoes
I told you about. You'll notice I did not mention tomatoes or green peppers. Well, for some reason I have a heck of a time getting those plants started. I don't know what the problem is and after all these years don't care to figure it out. I do all the right things as far as I can tell, and still have trouble getting those little plants to grow for me. So I cheat. I went to Lowe's and got two of each.
I've had good luck with Lowe's veggie plants before, so look forward to seeing them bloom and bear fruit fairly soon. Want to know the bonus I got with one of the green pepper plants? A ladybug. Ladybugs feed on destructive pests such as aphids and mealybugs so are very valuable in the garden. But the old saying goes that they bring good luck so we'll see how the veggie plants thrive.

One more update, before I sign off, to the Ollie Oleander and Loppy the lop-eared bunny stories below. Ollie is doing pretty well. His leaves are somewhat droopy and all the flowers closed up, but he's not yellowing so that's a good sign. And the best part is that Loppy has found his home keeping watch on Ollie. They make a great pair. Happy Gardening and be sure to bring home a beneficial insect to your garden.
Sunday, April 18, 2004
Another rescue in Florida
Well, this time it was an oleander. An acquaintance of ours had three oleanders in the front of her home, all planted too close to the outside wall. We had some pretty major winds come through over the last few days along with very heavy rain. As a result, the largest of the three blew over into the road. We got it back upright and staked it up, but the wind continued and blew it over again. She decided she didn't want it anymore, so off we went to rescue the poor thing and bring it to its new home in our back yard.
I really like oleander. The leaves are leathery in feel and it produces many, many flowers in white, pink or hot pink. The one we rescued is hot pink and about 10 feet tall. We placed it on the side of our yard where it can spread its roots and get lots of sun. It got some good water and food, and settled in for the evening.
Ollie is now its name and it seems to be surviving the transplant. It drooped its flowers and the leaves hung down a bit, but the plant is pretty hardy and should perk up within the next few days. It should adapt and be pretty happy in its new home.
Here's some info about oleander.
Apocynaceae
, or common oleander, is a fairly fast growing evergreen reaching heights of 10-15 feet. The flowers cluster at branch ends and bloom from mid to late spring continuing into autumn. I have seen oleander trained into small trees as well as used for borders.
I'm sure there will be many more plant rescues here in Florida and I'll keep you posted as they happen. Happy Gardening and keep your eyes open for a plant in need. The wind may just drop it right in front of you.
Wednesday, April 14, 2004
The great turtle rescue

This was the cryptic note left on my desk. Hmmm, I thought. What could this mean? Then it came to me. My husband had called me ten minutes earlier telling me he had found a turtle in trouble and wondered what he should do. I suggested he try to bring it home and we'd then figure it out. So, the turtle was safe in the garage and my husband needed vodka!
Seriously though, with all the building and expansion that the human population does we are slowly moving animals out of their natural habitats and into smaller and smaller areas to live. We see animals of all kinds dead on the roads around here because of it. My husband rescues, or tries to, any living thing he sees in harm's way and so it was with this turtle.
Harlan was traveling home on a two lane highway and saw to his right a turtle hanging off the curb almost falling into traffic. He got to a place where he could safely turn around and came back just as the turtle fell off the curb. Before he realized what had happened Harlan ran across the road, scooped up the turtle and got back to his car. Lucky for him it wasn't quite rush hour or they both would have been smashed.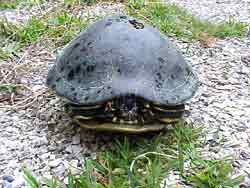 So, back to the story of his short garage stay. We started looking around on the Internet for a place where we could take him – a turtle rescue, if you will. Then we decided it would be smart to call our vet. Diane Perry of Feline, Avian & Exotic Animal Hospital in Dunedin FL is one of the most kindhearted and caring people we know. We knew she would be able to recommend a place for us to take the turtle. Sure enough, my husband called and the office told us to come right over. So we did. Turns out Diane takes the turtles to designated safe havens depending on whether they are land or water types. This guy turned out to be a snapping turtle, although he wasn't very snappish with us. Probably because he knew he'd been given a second chance to snap at someone else.
Well, it was a happy ending for this turtle and I hope we can share many, many more happy tales for our animal friends. Happy Gardening and please try to rescue a few of these poor animals when you can. Now, what about that vodka?
Sunday, April 11, 2004
Easter tulips
Today is Easter and my mother gave me some beautiful tulips. She knows how much I love to garden and wanted me to be able to enjoy them for several years to come. I, too, love tulips and would love to see them bloom repeatedly. The only problem is tulips are not easy to grow in Florida because of our temperatures, but I'm going to give it the old college try.
Tulips require a sustained cold period to flower properly in spring. Usually 50 to 60 days at 40 degrees will allow the bulbs to regenerate. That worked well when we lived up north, and we had a variety of tulips and lilies blooming all spring. The curse of living here, and I say that tongue-in-cheek, is that we don't have 60 days straight of 40 degree weather. So, what's a person to do?
Well, I've done some research and have learned that I can park them in my refrigerator until December, after the growth has died away of course, and then plant them 5 to 6 inches deep in full sun. Now, all my Florida garden books discourage me from doing this stating that it is less trouble to buy bulbs already chilled at seed stores. But this is a pretty interesting challenge and I'm willing to give it a try. Besides, these tulips are gorgeous and my mom gave them to me. What other reasons do I need?
Happy Gardening and enjoy your family today and everyday.
Thursday, April 08, 2004
That lop-eared bunny of mine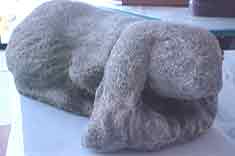 I am a nut for lawn ornaments. Not the huge statues of angels and religious figures, but the smaller more life-like stuff. Our garden is graced with a squirrel here, a brown-eyed bunny there, and a couple of very fine frogs. Oh, and I can't forget to mention my turtle and some brass fish sitting on the back deck.
My husband wanted to treat me to something new for our upcoming pool landscape, so off we went to a little store in Dunedin called "The Wee Nooke". This shop carries a variety of old and really-old (that's what the tags say) furniture and other antique-like items. It's a couple of small houses converted into stores, and a fun place to meander through.
As we looked around, we literally stumbled across this odd little piece of concrete. It was obviously old and weathered. As we continued to look at it, we realized it was a lop-eared bunny! Well, nothing would do but we immediately agreed we had to give him a place in our garden.
Loppy has come home with us but has not gone into the garden since it's not yet completed. In the meantime, he sits in our living room and gets a pat on the head every time someone walks by. He's a bit worn down, but I think he's happy with his new environment. Happy Gardening, and be sure to keep an eye out for those older garden friends. They'll appreciate it.
Monday, April 05, 2004
A rose by any other name...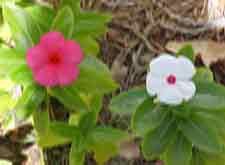 One of the best performing plants in my garden is periwinkle. It loves the heat and even when it's gasping for water, continues to flower remarkably well. The best part about this annual is that it self-seeds. So even if I lose a plant or two, there are always more coming up to take its place.
Now, I have a running game with my mother about this great little plant. She refers to them as vincas, which is actually their latin name. I always refer to them as periwinkle, so she claims she doesn't know what I'm talking about. But she does.
Periwinkle, or
vinca rosea
, grows in full sun or partial shade anywhere from 6 to 24 inches in height. I keep my plants bushier by trimming them periodically. It forces leaves out on the lower stems and keeps the plant from looking spindly. It also assists with heavier blooming. Vinca blooms in a multitude of colors from various shades of pink to white to purple. Try them in your garden. And, if you see my mother, call them periwinkles. It will make her chuckle. Happy Gardening.
Thursday, April 01, 2004
Happy April
Happy April and welcome to Spring. I woke up this morning thinking about writing an article about National Arbor Day, but also asked myself what else happens in the month of April? Today is
April Fool's Day
– full of practical jokes. This "holiday" seems to have been around at least since the 1700s and there are lots of explanations as to how the pranks got started.
What else happens in April?
Boost your Hometown month
National Poetry month
ZAM! – Zoo and Aquarium month
Here's some other interesting facts about April:
Paul Revere made his famous midnight ride in 1775


Income tax month (not much fun)


The zipper was patented in 1913


The Louisiana Purchase was completed in 1803


Pony express service began in 1860
What happens environmentally in April?
Lots of other fun facts about April activities can be located at the
University of Missouri-Kansas City
upcoming events link.
Let me share just one quote with you that I connected to.
While lecturing to a crowded classroom at Harvard, philosopher George Santayana spotted a forsythia in a patch of snow outside the window. Walking to the door he said, "I shall not be able to finish that sentence. I just have discovered that I have an appointment with April."
So, plant a tree for National Arbor Day, and pay attention to your garden and the environment around you, but don't forget the best one of all. April 28 is Kiss Your Mate Day. Make sure you celebrate. I know I will! Happy Gardening.
This work is licensed under a
Creative Commons License
.
Thanks to Andrew Stenning who contributed the photograph for our masthead