Saturday, August 27, 2005
I love my Black & Decker tools, and other updates
I haven't written anything in about 3 weeks due to a fun extended visit from relatives. So here's a few tidbits to bring myself current:
My Black & Decker cordless mower and weedwacker are the best things since sliced bread. Since we had visitors I had little time to mow and trim the yard. The lawn had grown for a little more than two weeks so this morning I decided to have at it. The wacker cleaned up the edges in no time flat. The mower cut the entire 70' by 240' backyard without even breathing hard. Kudos to B&D for some fantastic products - highly recommended for those of you who don't want to deal with gas implements.

You may recall I mentioned adding a side bed in the backyard next to the patio. I planted two dwarf oleanders and a thrayllis along with a few stray elephant ear rhizomes. Here's what I learned over the summer - the elephant ears shot up like Jack's beanstalk and covered the dwarf oleander. That wouldn't have been that big of a deal except that by shading the oleanders, the little caterpillars that love to chew on their leaves got away with murder. Those babies stripped one of the oleander shrubs like nothing I've ever seen. Consequently, I'll be relocating one of the oleanders and a couple of the elephant ears.

The cherry tomato plant that kept our squirrel friends fed and us entertained with their antics has passed on. Somewhere in all the guest madness the tomato plant did not get watered regularly and withered away. Of course, you'd of thought that Mr. Squirrel would have brought out his own watering can to keep the supply coming but I guess he needs some gardening lessons.

The same thing sort of happened to those hibiscus cuttings I was bragging about. Of the 9 started, about 4 are still living. Those babies will be planted this weekend right after Katrina's bands move through.

The moorhens residing in the pond behind our home have had three new chicks. I guess two little guys got tired of their water because they have taken to swimming in our pool. While they're lounging in the water, Mom and Dad provide snacks!
Finally, an update on the senior pups I told you about. Pepper and his little buddy Poncho have been adopted together and are as happy as they can be in their new home. Their new mom had just lost her little dog to old age so it was just fitting that she gave these two little guys a place to call their own. Thank you, Linda, for taking them into your heart. Tasha and Adrian have also found wonderful loving homes. Both are doing well and very happy. There are always more out there waiting so please keep seniors in mind when you think of adopting. I have also started publishing a newsletter for Lost Angels so if you are interested in being included on the mailing list, please send me your email address.
That's all for now and I think that's plenty for two weeks! Happy Gardening.
Sunday, August 07, 2005
Favorite garden centers
Do you have a favorite garden center you just love to visit even when you aren't sure what you want to buy? Or even when you think there is no more room to add new plants? I sure do. Up north it was Valley View Farms AND Maxalea Nursery. Here so far it's only one -
Beckett Lake Nursery
.
This weekend was the big "Beckett Bucks" sale. When we visited in May, every plant purchased got an equivalent dollar for dollar in Beckett bucks. The bucks were saved up for the big sale in August. I kept checking the calendar for the days and Saturday morning we packed ourselves up early, went to breakfast, and then drove over to the nursery.
There were rows and rows of shrubs, vines, ferns, annuals, perennials and trees. We wandered through the aisles and then meandered again. My husband would stop to look at something, we would discuss the particular plant, and we would mosey on down to another. Occasionally we would ask one of the owners a question and then we would walk around again. The clearance center provided a wealth of finds at good prices.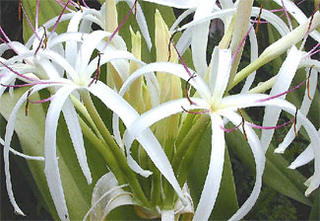 Two hours later we had a cart full - a gorgeous double pink hibiscus 1/2 price, a huge begonia 1/2 price, a couple of LOVE grasses that I'll tell you more about at another time, a few ferns (my husband's favorite plant) and, the piece de resistance, a
crinum lily
. I have been salivating over crinums ever since we moved here and I always said they were too expensive. Low and behold Beckett had one for $20 and I got it for $10 with my Beckett bucks! What a deal.
All in all it was a fabulous day and we saved a lot of dollars with our Beckett bucks. The best part is that my husband enjoyed it as much as I did. We'll be back there again when the weather cools and find a few more things to fill the empty spaces in the garden. I can't wait. Happy Gardening.
Friday, August 05, 2005
Tasha has a home
Just wanted to let everyone know that Tasha, the little chihuahua, has found a home. Don'tcha just love it when things go well for a little four-legged friend in need?

This work is licensed under a
Creative Commons License
.
Thanks to Andrew Stenning who contributed the photograph for our masthead