Wednesday, June 29, 2005
Looking for a reference book?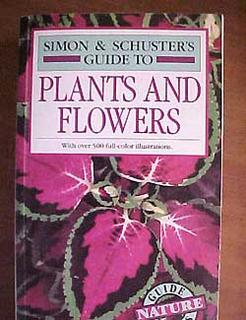 During my prolonged bout with the virus I was reading everything I could get my hands on. As I was feeling better but still not good enough to be outside, I turned to all of my gardening reference books to keep me warm. Here's one I totally forgot I had: Simon & Schuster's Guide to Plants and Flowers.
What a great book. It's filled with gorgeous color photos of everything from camellias to pickerel weed and lots of stuff in between. I purchased this well before we moved to Florida at The Nature Company. And just for good measure I got it's companion Simon & Schuster's Guide to Cacti and Succulents. Check them out when you get a chance, and don't wait until you're sick to do it. Happy Gardening.
Tuesday, June 21, 2005
Tomato thief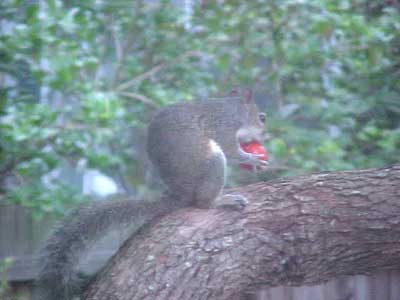 I finally succeeded in growing some decent tomatoes and what happens? A thief sweeps down in the night and the next thing I know the fruit is gone! Ok - I'm embellishing a bit. The thief didn't sweep down in the night. It was the middle of the afternoon and it was our little friend, Mr. Squirrel. He plays lots of chase games with his pals in our oaks and palms and loves running along our porch railing. We had seen him sitting on our front porch many times before but didn't realize he had an ulterior motive. Now we know it wasn't just our view that kept this guy coming around. Happy Gardening and save a tomato or two for your favorite squirrel.
Saturday, June 18, 2005
I have a confession to make
My garden is full of weeds. There are so many weeds that it's becoming difficult to see the plants particularly in the foliage garden. So what's my excuse? Virus!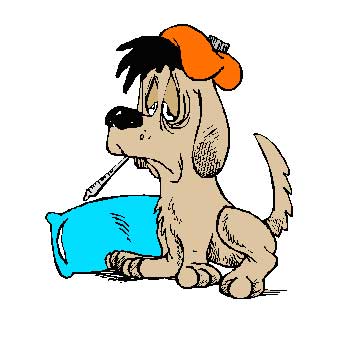 Almost 3 weeks ago my husband starting sneezing and came down with a horrific cold. Just as he was feeling better I started. Rather than bouncing back like he did, I got worse to the point where I decided it was an infection and required antibiotics. Well, that wasn't the case. Apparently there is a virus going around right now sneaking its way into people's sinus passages and lying in wait like a snake ready to strike. My doctor clucked in sympathy, all the while telling me that she could only treat the symptoms and time would do the rest.
I don't know about you, but it bugs the heck out of me to sit around doing nothing. Even at my worst, I still itch to get outside and water or mow. So imagine how difficult it has been for me to sit inside and watch the weeds take over. The good news is that I am feeling better but, being on the verge of bronchitis earlier this week, I'm not too eager to push my luck and run outside. So while I sit here and feel sorry for myself I've decided to make a list of all the garden tasks I want to accomplish as soon as I'm 100%. Things like pull the weeds in both front beds, edge all the gardens, put mulch in the front and side gardens, find just the right place for the new concrete bench we bought a month ago that's still sitting in the dang garage, lay down the little patio for the bench, etc. etc. I'm already tired! Happy Gardening.
Sunday, June 05, 2005
Lounging and reading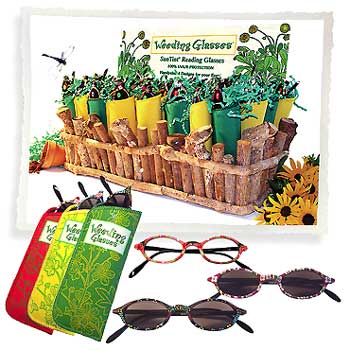 With the arrival of the long, warm days of summer comes swimming and lounging around the pool. I don't know about you, but when I'm lying in the sun I enjoy reading. But the hard part is I need sunglasses and am farsighted. What's a book/sun lover to do? Weeding glasses! Yep - weeding glasses.
Out of the Blue
sells sun-tinted reading glasses just for folks like me. I've often said someone should invent the product and now it's available. You can choose your style, power, color and you get a colorful case. What could be better than that. The company also offers regular sunglasses and clear readers. Go check it out - I know I'm already picking out mine. Now, where's that sunscreen? Happy Gardening.
Wednesday, June 01, 2005
Angelonia
I'm baaaccccckkkkk! My monitor fried so it was kinda hard to write a blog without a screen to see what I was saying. Luckily it was still under warranty and HP got me back up and running today. So on to Angelonia.
What a romantic sounding name, isn't it? This plant has been rolling around in my brain for the last month and a half so here's the rest of that story. Six weeks ago my dad had to have heart surgery. While we were spending the day at the hospital, my sisters and I walked my mom outside hoping to get her mind off what was going on inside. A tough proposition considering they've been married almost 63 years but we felt it was at least worth the effort. On the table was a copy of the local newspaper complete with a Home Depot ad. My mother likes all plants that flower, so she immediately turned to the garden page and there was a list of various plants carried including Angelonia. No pic, just the name so Mom asked me what it was. I didn't know but just happened to be reading a gardening book I had just purchased and turned to the index to see if it was listed. No such luck. I told her I would check it out when I got home and promptly forgot. Obviously my mind was elsewhere - the good news is my dad made it through the surgery and is home recuperating as we speak.
A few weeks later my older sister visited Lowes and bought a few plants for my mom's garden. One didn't have a name tag but Carol liked it, purchased it and plopped it in the front bed (turns out it was Angelonia). Shortly thereafter I was at Lowe's and saw a sign for - you guessed it - Angelonia but there was none. So I bought a bunch of other stuff and again forgot about it. What else did I buy you ask?
Lantana
-yellow and multi-color,
purslane
- considered a weed in the north but flowers and spreads just like mexican rose so is prized here, and lavender
cosmos
. Gorgeous stuff. Today, I was connecting my new monitor and had to crawl under my desk to do so. I found a few gardening magazines along with a bunch of dust bunnies (I have to fire that housekeeper) and started glancing through them. You'll never guess what jumped out. Not a cock-a-roach, or as we so elegantly refer to them palmetto bugs, but an article about Angelonia. Ok, I thought to myself, this is getting a little freaky. For some unknown reason, a higher power than me wants me to be aware of Angelonia and what better way to create awareness than to write about it. Hence this article and the long-winded explanation.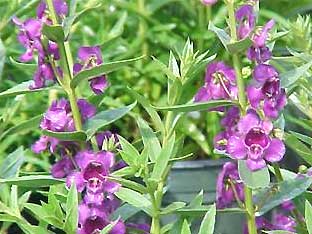 So, now you're intrigued. What, you ask, is
Angelonia
? Well, some nurseries call it summer snapdragon. It's an annual that flowers from spring through fall with delicate blooms ranging from white to purple. Angelonia is drought and heat tolerant, and in zones 8 and higher is considered a perennial. It's a delicate-looking flower and attracts butterflies. Growing to about 18 inches high, Angelonia makes a great border plant. One of these days I just may add it to mine. Happy Gardening.
This work is licensed under a
Creative Commons License
.
Thanks to Andrew Stenning who contributed the photograph for our masthead