Friday, September 03, 2004
The web gardening community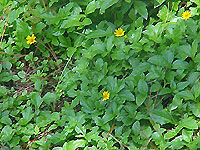 I am always so pleased to think of the number of gardening friends I have made through the web. Today is no different. A few days ago I wrote on my Gardening Information page about the Pocket Gardener offered by Ohio State University. This valuable tool provided at no cost can be downloaded directly from their site. I emailed the contact person, Dr. Tim Rhodus, just to let him know I had mentioned the Pocket Gardener and was providing a link on my links page. Dr. Rhodus quickly responded by thanking me and offering this site a link on their resources page. That email was followed up by another from Elaine Eberlin at OSU informing me that I had already been added to their resources page. She also mentioned two other informational sites they have -- the
Ohio State University Webgarden
and the
Ohio State University PlantFacts
. These sites speak to horticulture and crop science careers as well as offering a plant database complete with images, videos, tips on a myriad of plant and garden topics and a glossary of commonly used horticultural terms. These are fantastic sites that I have bookmarked and will visit often.
I also heard from a fellow weblog gardener who I had emailed a few months ago requesting reciprocal links.
Moosey's Country Garden
is a beautiful site chockful of wonderful photos and information about their gardens. There are also reviews of books and magazines as well as an active gardening forum. Go out and visit Moosey's site and when you do, wish her a happy birthday on the 8th.
Many of the garden folks I've become acquainted with since I started this blog have come back to visit and I have done the same with their sites. It's interesting to experience the camaraderie the web gardening community enjoys. I've had the pleasure of meeting people from all over the world who share the same thing - a love of gardening and nature. How wonderful is that. As my gardening network continues to grow I'll mention each new friend so you can join in. Happy Gardening.
Comments:
Hi Blogger Great blog post!, I was just blog surfing and found The web gardening community ! Posts were interesting to reading. If you can, come visit my
Golf Instructional
related site. It isnt anything special but you may still find something of interest. :-)
Post a Comment
This work is licensed under a
Creative Commons License
.
Thanks to Andrew Stenning who contributed the photograph for our masthead