Thursday, May 13, 2004
I've got peppers!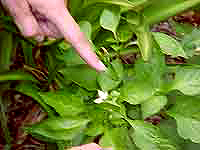 My green peppers have now formed. You may recall I went to my favorite home center, Lowe's, to purchase my green pepper and tomato plants just a few weeks ago. And now I'm a Mom! I'm so proud. I have also planted squash, zucchini, cucumbers, carrots, radishes and cabbage. So far all but the carrots and cabbage have sprouted so I'm pretty happy about that too. It's absolutely intriguing to watch vegetables form and grow and I can't wait until we can savor these luscious veggies.
So, where do you start when you want to grow your own vegetables? I recommend consulting
Square Foot Gardening
by Mel Bartholomew. This book is a wealth of information about garden planning, spacing and planting, starting plants from seed and extending the growing season. Square foot gardening is based on building your garden in a series of squares. Each square holds a different plant and the number of plants placed in each square depends on its variety, size when fully grown and spacing for them to develop. Here are a few examples: pepper plants need 12 inches of space between plants, so you place one pepper plant right in the center of one square. Leaf lettuce needs 6 inches between plants so you plant 4 plants in one square, etc. It's a great method of gardening that I've used in the past and highly successful. Since this is my first year of veggie gardening in a long time and I still don't have my beds properly set up, I haven't followed this tried-and-true method this time but plan to do so next year when I'm better prepared.
I don't know if I've mentioned this, but my husband and I are vegetarian. The opportunity to grow our own vegetables and enjoy their fresh flavor is exciting. Many times we've had to buy our veggies from the grocery store and they tend to just not be as fresh. We've also shopped the local vegetable stand, but just don't get over there often enough. So here we are doing it for ourselves. I'll be sure to share the results as we go. Happy Gardening and, as your mom would say, eat your veggies.
Comments:
Dear Blogger,
One of the article groups on my site is Home & Family ... while searching for details on landscaping, I came across " I've got peppers! ".
It is widely accepted that a lot of the best articles on the internet is created by individuals who blog ... good quality content without the bias and waffle often found elsewhere.
Judging by your blog content I believe you are interested in
landscaping
, and will therefore find our Home & Family category to be of interest. I am frequently looking for individuals to submit articles on their pet subjects and help me to build the directory to everyone's benefit. As a contributor, you get the recognition of having your article published and seen by thousands of web users. The pride and satisfaction of seeing your article published in a prestige directory is hard to beat.
Few of us are gifted with the ability to write to professional standards of grammatical correctness ... as a result, many bloggers don't bother to have their articles published.
I accept articles written in an informal style that matches your personality and fits in with your article content. I also welcome articles that are uniquely based on your personal knowledge, experiences and opinions. All I ask is that your articles do not contain vulgar language, incite hatred or generally offensive.
There are no costs involved ... please come over and have a look at my
blog articles directory
for yourself.
Kind Wishes
Emily
Post a Comment
This work is licensed under a
Creative Commons License
.
Thanks to Andrew Stenning who contributed the photograph for our masthead