Friday, July 23, 2004
What's your favorite flower?
I came across another garden test the other day and thought I would share. This is more of a test to determine what your favorite flower shows about your personality. I'll tell you what I am after you have a chance to read through the list. Here goes:
Tulips
Daisies
Birds of Paradise
Roses
Orchids
Sunflowers
Ok. Did you pick your favorite flower? Well, here's what it says about you:
Tulips--You're a traditionalist who values etiquette. Though you can sometimes be inflexible, you're the first to say I'll take care of everything.
Daisies--Friends value your loyalty. A great pal, you love to listen and never get angry.
Birds of Paradise--You're an open-minded free spirit. You love drama and aren't afraid to speak up for something you believe in.
Roses--You hold onto cherished memories, have an active imagination and show respect to your elders.
Orchids--You are a perfectionist and detail-oriented. You tend to be highly organized and efficient.
Sunflowers--You have boundless energy and are a true optimist. You tend to be outspoken.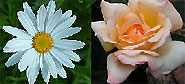 Pretty interesting, eh? Share this with your other gardening friends and it will be fun to see if their personalities match. Oh, what's my favorite? It was a difficult choice, but I finally decided I'm a daisy/rose mix. There's nothing that says I can't choose more than one. Happy Gardening.
Comments:
Alot of interesting comments on this blog, I was searching for container gardening roses related info and some how came across this site. I found it pretty cool, so I bookmarked. I'll really liked the ##TITLE entry, that got my attention.
My site is in a similar niche and some might find it as useful. I have a
container gardening roses
related site focusing on ##KEYWORD related topics.
Hi Blogger,
What's your favorite flower? is one of the really interesting blogs I've found during my search for info about
gifts for gardening
. Although What's your favorite flower? isn't exactly what I was looking for, I want to express my admiration, keep up the good work! While looking for more information about gifts for gardening, I seldom see a good blog like yours.
Post a Comment
This work is licensed under a
Creative Commons License
.
Thanks to Andrew Stenning who contributed the photograph for our masthead