Wednesday, November 17, 2004
I forgot - it's not one it's two new gardens
Well, the patio has been poured and it's every bit as nice as we had hoped it would be. It makes the downstairs area look huge and gives us the patio we have been looking forward to - it's undercover if it rains and gives us some protection from the hot summer season. A couple of weeks ago I shared a picture of a new garden I had "discovered" as we were cleaning up in prep for the new patio. Today I realized that there would actually be two new gardens not just the one I found. Where? Well, that's the fun of it.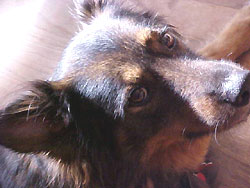 When we decided on the layout of the patio we also agreed that we should leave the area directly under the upstairs deck open. We have a water hose up there and that's where we camp the boys out to do their business when there are workers in the backyard. Consequently, it wouldn't make sense to have a seating area under there in case we needed to hose down the deck...you catch my drift so to speak. So when the patio was formed that area was left open. When the workers asked my husband why, he said "so my wife can build a garden, of course." He didn't tell me their reaction but I can imagine them shaking their heads. Another new garden - I'm rubbing my hands together in happiness and thinking about what I'll plant. It's got to be something that likes partial shade and the occasional dose of doggie poo. Happy Gardening.
This work is licensed under a
Creative Commons License
.
Thanks to Andrew Stenning who contributed the photograph for our masthead