Wednesday, December 22, 2004
Now I've "heard" everything
Consider this. You go out to the garden and lose yourself in thought as you trim a shrub here, pick a flower there. Zen is all around. All of a sudden you start to hear ringing. What's that you ask as you shake your head to come out of your reverie. And then it happens again - that incessant, mind-numbing ringing of a cell phone. Yikes!
I was reading through a magazine recently (sorry, but I can't find the article or I would link to it for you) and there was a short mention of a new gardening carrier. It's a "bucket" that allows you to carry all your needed tools around the yard with you so you're not searching for the trowel and all you have is your hoe. But this carrier is new age - it now includes a pocket for your cell phone. How nifty is that? Not! What happened to the zen of gardening? What happened to losing yourself in the beauty and quiet that surrounds you?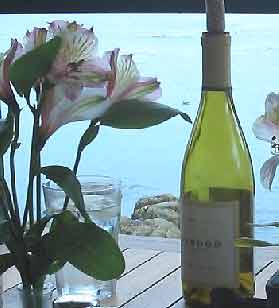 Now, don't get me wrong. I totally understand the need to be close to a phone. I share caregiving responsibility for my elderly parents and am never far from contact. But there's a time and place for everything. If one of my folks was ill, I would probably want to have my cell phone nearby. Otherwise, I go into the house frequently enough and the ringer on our phone is loud enough that if someone is trying to reach me I feel fairly certain that they could do so quickly. So, here's my thought on the subject. Nix the phone unless there is a family emergency. Wrap yourself in the spirituality of the garden. Take advantage of the zen so you can go back to the world feeling refreshed and ready to endure those nagging, mind-numbing rings. And, if you want to buy the new carrier? Put a bottle of wine in it instead. That will really contribute to the zen. Happy Gardening.
Comments:
Hi Blogger,
Now I've is truly a nice piece of work!
While looking for more information about gardening tools,
I see so much rubbish, that I am glad to find a blog like yours.
My interest goes out to
gardening tools
related information,
but Now I've is a real inspiration for me.
Hi Blogger,
Now I've is one of the really interesting blogs I've found during my search for info about
gardening presents
. Although Now I've isn't exactly what I was looking for, I want to express my admiration, keep up the good work! While looking for more information about gardening presents, I seldom see a good blog like yours.
Post a Comment
This work is licensed under a
Creative Commons License
.
Thanks to Andrew Stenning who contributed the photograph for our masthead