Tuesday, March 08, 2005
Cat litter revisited
Have you heard of
Feline Pine
? There have been many commercials about the product over the last few months and I've been wondering what all the fuss is about. My husband and I talked about it since it's supposed to be more environmentally friendly than the usual cat litter products on the market. I was shopping the other day with my sister, better known as PTFP (part-time FLA person), and came across Feline Pine so decided to purchase it.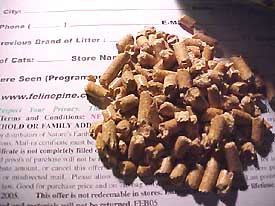 According to the package and the website, this litter is made from 100% pure pine - no new trees were cut to make it. There are no chemical additives and there's no silica dust. For all of you who are owned by cats, you know that the dust gets a little annoying when prepping a clean box. I get all choked up and it's not because I love cleaning up after my cat.
Continuing to read through the verbiage on the bag, there is no trash because Feline Pine can be scooped, flushed or mulched. Mulched? Apparently the pine pellets absorb the liquids and break down into sawdust. After about two weeks all the pellets will dissolve and can be used as landscape mulch or compost. Now, I'm all about recycling and keeping the environment clean. But using this as mulch? Doesn't it stand to reason there's got to be a little bit of urine odor if the pellets absorb it? And, if that's the case, if the sawdust is added to the landscape aren't I then creating a huge litter box for the neighborhood kitties? I can see it all now. Joe's cat down the street catches wind of the new litter box in town and invites all his friends over to hang out. Next thing you know we'll have to start charging a cover fee and providing refreshments. Not to mention what a celebrity Girlfriend, our loving little pain-in-the-rump, will become. Somehow I don't think she's much into being in the spotlight these days. Anyway, we'll give this new product a try but will hold the mulch idea until we've seen what it can do in a controlled environment. The good news is that the company offers a rebate for new users so the first bag is free. Happy Gardening and stay tuned for more.
Comments:
Hi, I'm out searching & surfing for the latest information on
how to clean cat urine
and found your blog. Although this isn't exactly what I am looking for, it caught my attention and I just read this post. I see now why Google pointed me here while I was searching for how to clean cat urine related stuff. I'm glad I stopped long enough to read your posts -- thanks.
Post a Comment
This work is licensed under a
Creative Commons License
.
Thanks to Andrew Stenning who contributed the photograph for our masthead