Wednesday, March 02, 2005
We did it again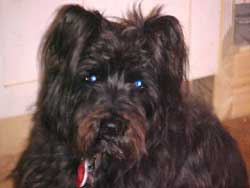 By now I'm sure you know what crazy nuts we are about animals. In the time my husband and I have been together we have rescued nine animals. Six became part of our family - three were taken to our vet for various reasons. This does not count the numerous turtles, birds and sundry others Harlan has rescued in his travels since we've lived here in Florida. Not too long ago we gave a home to a little schnauzer mix who had been a statistic of the hurricanes. We drove four hours south of here to get him and don't regret it for a second.
The problem is that our other dogs are older and do not want to play. They are seniors at 13 years old and this little guy is only 2 with lots of energy. We kept thinking that the other guys would rally and start running around in the yard a little more but it never happened. So, you guessed it. We decided Max needed a playmate. We started searching on
petfinder.com
(see the icon on the right side of my site) and ultimately found the newest member of our family through
Lost Angels Animal Rescue
. Kelly, one of the founding members of Lost Angels, is all heart. She has numerous dogs at her home at any one time. All of the dogs are rescues either from the streets or from kill shelters. She and her friends work tirelessly to find them permanent homes. All of the animals are well cared for - they are brought current on all shots, spayed or neutered, and treated for any other medical problems before they are adopted. This group is all volunteer. They work full time jobs and spend their free time taking care of animals. What wonderful people they are.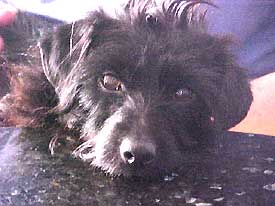 So, here's our newest little guy, Nicky. Why did we name him Nicky? Well, about six weeks ago we lost our cat to kidney failure. And just about six weeks ago Kelly saved this little guy from a kill shelter and did everything she could to find him a home. We just got thinking about it and came to the realization that in some way our other Nicky may have just come back as this little guy since their personalities are so similar. Nicky is getting used to his new home. He's been running around in the backyard sniffing all the new smells, watching the birds in the pond and even drinking out of the pool. He's even started trying to get Max and the other guys to play. It's a crazy life but well worth it. We will be supporting Lost Angels from now on and every time Nicky gives us a kiss, we'll be very glad we do. Happy Gardening.
Comments:
Hello there, I found your blog while surfing on the internet, nice to see that other people are interested in #KEYWORD##.! You can go and see my
asparagus
related site. It has something new about asparagus.
Post a Comment
This work is licensed under a
Creative Commons License
.
Thanks to Andrew Stenning who contributed the photograph for our masthead