Monday, April 18, 2005
Hey y'all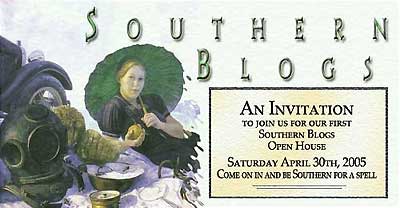 Southern Blogs Ring, the premier source on Southern culture, manner, missive and nostalgia will be holding a group blog to celebrate being alive, southern and free all at the same time.
Y'all are cordially invited Saturday April 30th to attend our first neighborhood cotillion and brunch.
The menu will be a light repast of Southern classics and down home cooked tales served up with Southern style and taste by your hosts:
The Green Cutting Board
Animal Broadcast Network
Wacky Southern Housewife
The World According to Tish
The Garden's Gift
Which Blair Project
Florida Gardening
A Southern Belle's Musings
An American Housewife
Garden Stuff
Southern Porch
Guests will be offered words, photographs, entertainment and some surprises, to be sure. So plan to attend and spend some time with us in the South.
This work is licensed under a
Creative Commons License
.
Thanks to Andrew Stenning who contributed the photograph for our masthead