Wednesday, May 18, 2005
Lemon geranium
Every day when I walk up the stairs to our front porch I get a whiff of lemon. It's one of the cleanest, most refreshing smells and all I ever get is just a hint of it. Not an overpowering smell like someone who puts on too much perfume but just enough to make a person turn their head and wonder where the scent is coming from. It's the lemon geranium!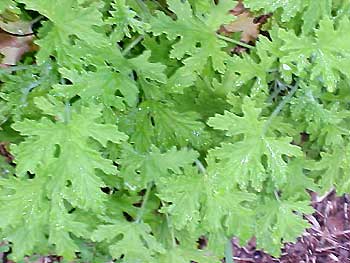 The first time I ever learned of this plant was when my husband and I went to Charlottesville, VA and visited
Monticello
, home of Thomas Jefferson. There were plants on the property available for sale that supposedly he had grown and among those were scented geraniums. We purchased the rose and lemon geraniums.
We had not seen them in Florida until recently when Lowe's was offering "mosquito plants". Same thing. The plant is a lemon balm geranium actually known as a
pelargonium
and I'm guessing the citrus smell supposedly keeps the skeeters at bay. We brought two home and they have grown into a mass about 4 feet wide by about 2 feet in height. I'm planning to make some cuttings and spread them around the entire yard, it's just that refreshing to smell!
I learned that there is a lemon geranium and a lemon balm geranium - the difference is primarily in the size of the leaves - but any way you cut it, no pun intended, it's a great plant to have in the garden. Happy Gardening and be sure to give it a try.
Comments:
Hi Blogger,
During my search for information about
garden furniture
, I found your Blog,
although Lemon geranium isn't exactly what I was looking for, I like the topic and the way you wrote it. My interest goes out to garden furniture related information, but I always admire a well written post.
Hi Blogger,
Your blog is wonderful, although Lemon geranium isn't exactly what I was looking for:
gardening tools
, but I like the topic and how you wrote it. I am more interested in gardening tools, but during my search for more information I discovered Lemon geranium, certainly one of the finest blogs I have seen lately!
Post a Comment
This work is licensed under a
Creative Commons License
.
Thanks to Andrew Stenning who contributed the photograph for our masthead