Tuesday, July 26, 2005
Update on our featured seniors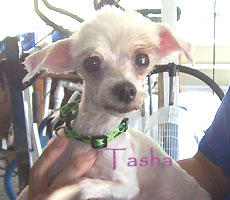 Good news! Little Margie has found a home. She was adopted on Sunday by a wonderful couple with two little Bichons. How great for her and what a fantastic life she can look forward to.
Little Tasha is still available, as are Pepper and Adrian, and here's her picture. What a sweetie pie and she sure could use a good home. Please contact our friends at
Lost Angels
to find out more about this little gal. Happy Gardening.
This work is licensed under a
Creative Commons License
.
Thanks to Andrew Stenning who contributed the photograph for our masthead